Ninh Binh is not only famous for its beautiful with many tourist attractions but also for special and delicious food. The famous food here smell and taste with the flavor of limestone mountains where locals feed animals. If you have a chance to visit Ninh Binh, don't miss to try 9 special foods which are cooked by locals with well cooking skills. We would like to introduce for you 9 best traditional dishes in Ninh Binh.
1. Rice crust ( Com chay)
The top famous food in Ninh Binh is rice crust. t is a natural and simple dish but very yummy and attractive. To make this food, it requires a good cooking skills. To make good dish, we also need experience in choosing ingredients, especially rice. Rice to make this dish is glutinous rice named " Huong" which has pure and round grains helping the dish get extra flavor. Com Chay should be supported heat by charcoal and during cooking , we keep suitable heat to create burned rice with equal thickness around the bottom of the deep pot . It is one of the most difficult step in cooking. After that, burned rice is put out to dry in the sun several times and preserved in fresh places to avoid mouldy state and keep its flavor. After drying, slices of steamed rice are fried in hot oil pan until they turn yellow and crisp. Together with main ingredient, steamed rice, are beef, pig's heart or kidney, some vegetables like mushroom, tomato, carrot and spices such as fish sauce (nuoc mam), pepper, red chili, onion, salt. Beef and pig's heart or kidney are thinly sliced, marinated with such spices and mixed with vegetables . Then the mixture is fried until fragrant and put into Com Chay bowl.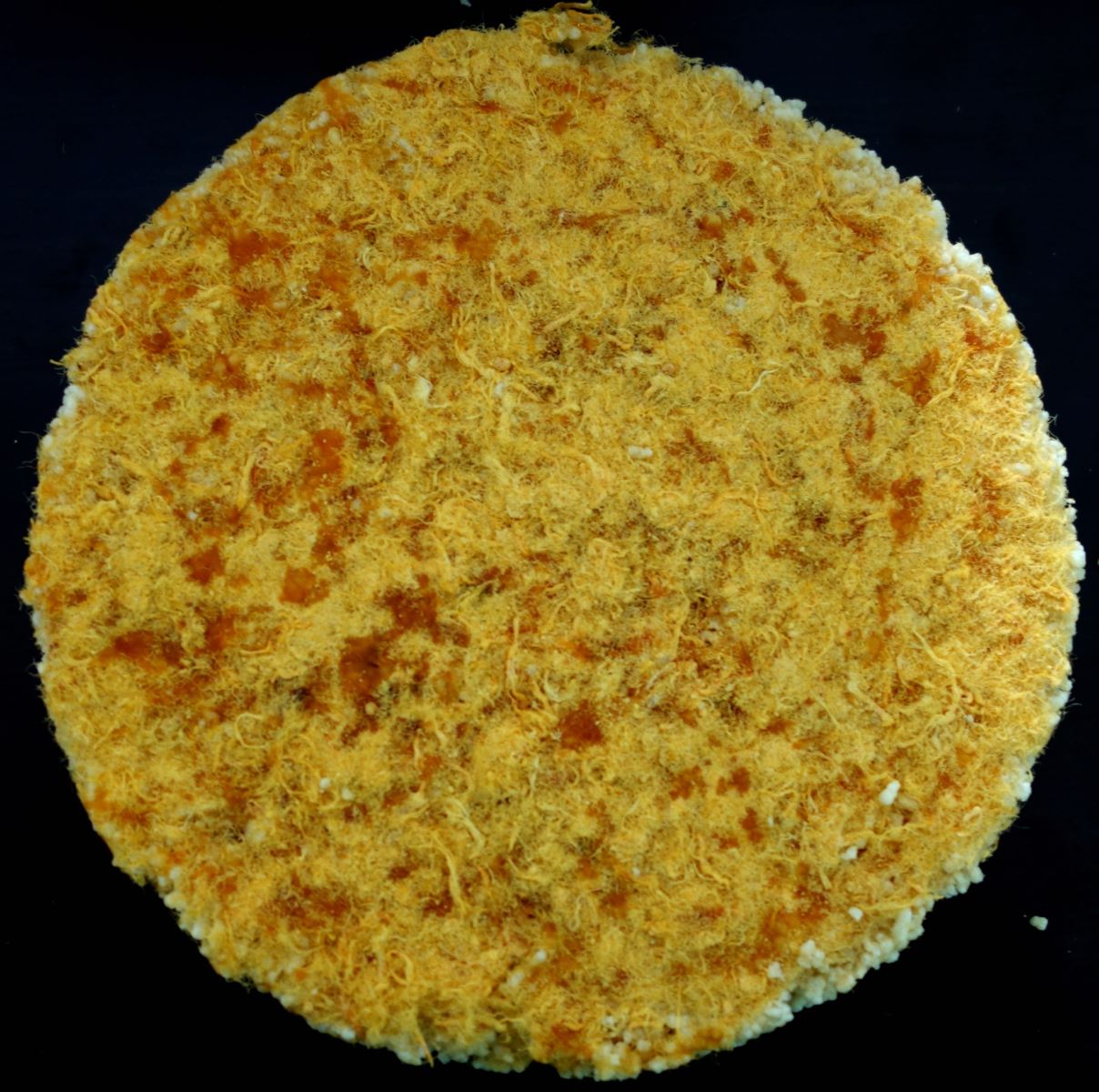 2. De tai chanh (Raw goat meat with lemon )
Slicing goat meat, put into hot water about 1 minutes. Mix raw goat meat with lemon water, ginger, garlic, chilli, shredded lemon leave. Eating this dish with unripe banana, fig and 'tuong ban" (a Vietnamese sause is made from soybean, rice and salt).
3. Kim Son raw Nhech fish salad
Nhech fish salad (or cá nhệch) is a special dish in Ninh Binh but you have to try this salad in Kim Son where considered as best place to enjoy it. Nhech fish has curved shapes of eels but larger and longer. Nhech has much meat, less bone, lots of protein. In order to make a delicious salad and attractive curved a meticulous process and sifted are emplemented by the chef. Nhech fish be rubbing with salt, or we can use ash, bamboo leaves, leaf or leaf imitation, slime wash off later bled before surgery and for a few stages to spicy fish meat more tasty. The first bite of Nhech salad will bring you the attractive aroma of roasted sticky rice, light sour of vinegar interjected to the spicy of ginger, garlic, pepper, chili and lemon grass. You will never forget this taste.
4. Nem chua Yen Mac ( Yen Mac Fermented Pork Roll)
Nem Chua Yen Mac is one of foods or gifts which you should try and bring to your home. Nem Chua has a light pink color and a sour, sweet, salty and spicy smell and taste. Nem chua Yen Mac used to be a favorite food of Vietnamese King. It made from rustic ingredients, namely ground pork thigh, minced pork skin, chili, garlic, fish sauce, sugar, salt, those are mixed, pressed and then naturally fermented by tender fig or guava leaves, Nem Chua has a very characteristic sour, acquired sweet, garlicky and salty taste with a nice crunch of pork rinds. While the fig leaf cover can be eaten with Nem Chua, creating a special acrid taste, the banana leaf cover makes its flavor more subtle and attractive.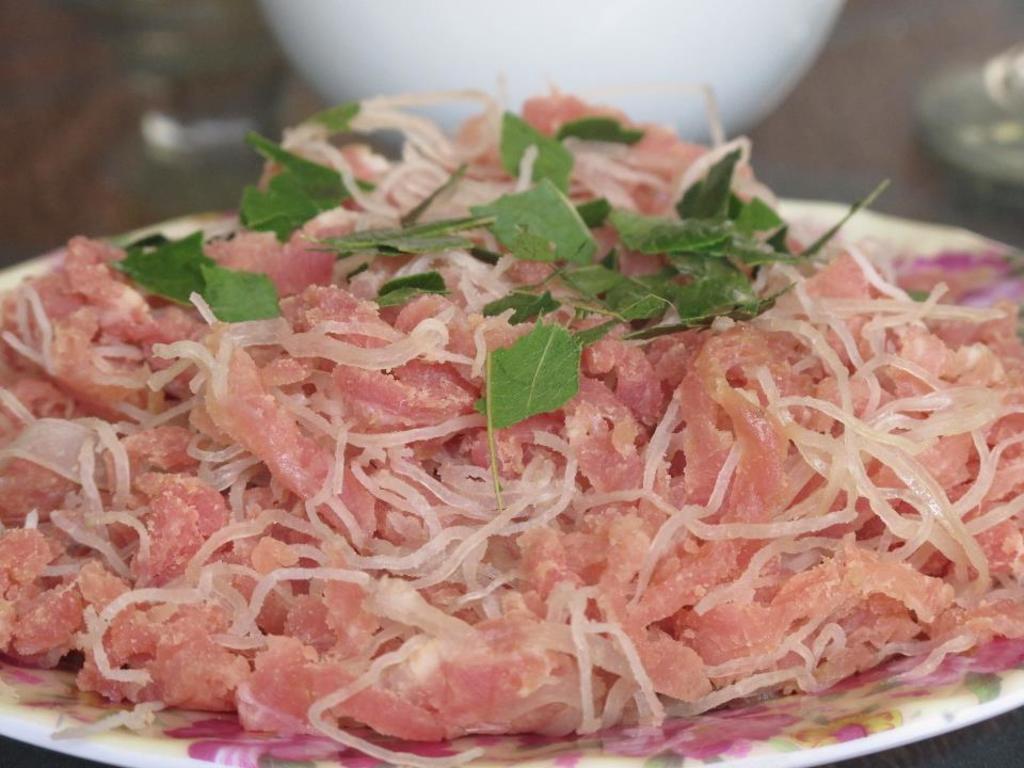 5. Ruou Can Nho Quan (wine drunk out of a jar through pipes)
Ruou Can Nho Quan (Nho Quan wine drunk out of a jar through pipes) is one of the special cuisines in Ninh Binh. You can come there to try or also buy for your friends, family and gather together to enjoy it, you will have unforgettable moments. Ruou Can is inside a jar, the size of the jar will depend on your hobby. To get a good bottle of wine, it must undergo several stages: from selecting ingredient to the processing and especially to calculate the appropriate time so that just in time. The main ingredient depends on the region, it may be corn, rice or cassava, but the best is sticky rice. To make Ruou Can Nho Quan is made from sticky rice. The Sticky rice must be chosen new rice, the alcohol will be delicious. Alcohol yeast are made from the peel of trees mixed with chili powder, ginger powder, rice powder and water, this combination is cut into smaller pieces and dried in 10-15 days, then crushed and mixed with the dried mixture of cooked rice and rice hulls, which is kept in the vase in 1-2 days, then dried banana tree's leaves are covered on the surface of the mixture in 1 month before the wine is ready to drink. The longer the wine is kept, the better taste it has; each material has its own taste. Drinking Ruou Can with Com Chay Ninh Binh (Ninh Binh Rice Crust), it will be the best combination.
6. Mam tep (Shrimp paste)
Shrimp paste is made from fresh small shrimp, mixed with roasted rice flour, salt and water. Then it is brewed for at least 1 month.
A good paste have to be brown and red, not too salty, smell good. Gia Vien shrimp paste is the most famous one in Ninh Binh. If you have a chance to visit Gia Vien, don't miss to buy a shrimp paste bottle!.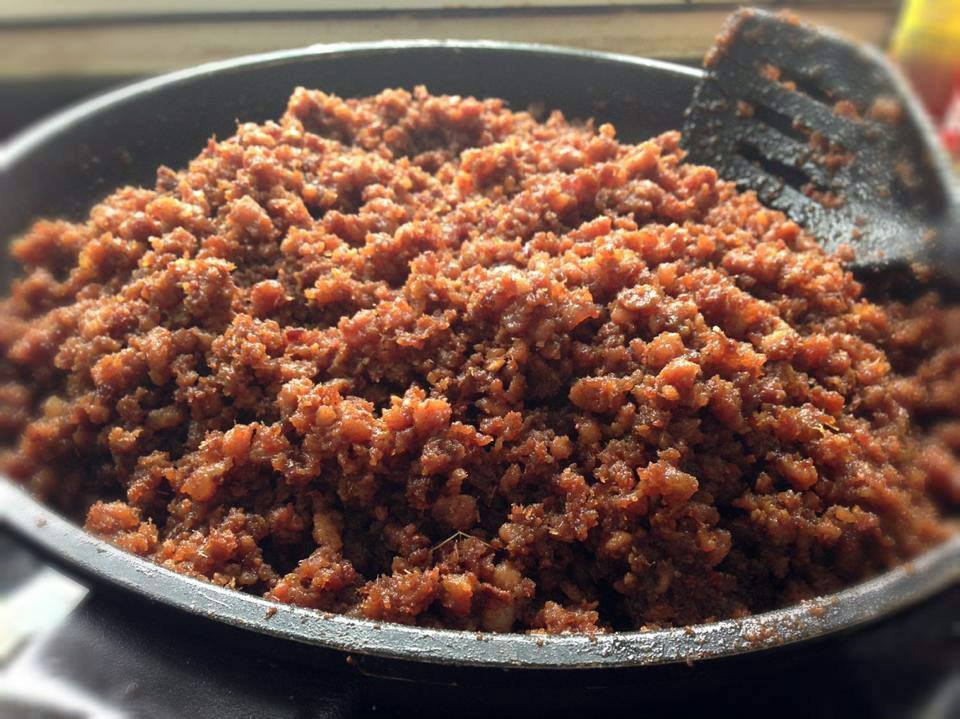 7. Xoi trung kien (sticky rice with ants eggs)
Not all kinds of ant eggs are edible. It must be eggs of black ants that build nest on the tree. The ant egg season begins from March of the lunar calendar and this period lasts over a month.
Processing ant eggs is very sophisticated. These tiny eggs are cleaned gently with warm water and mixed with seasonings, dried onion and fried with fat until the eggs spread the nice aroma.
The eggs are then put on a banana leaf so the nice smell of eggs is mixed with the smell of the leaf. This dish goes with steamed sticky rice and fried onions.
8. Bun moc (Rice noodle with "moc" soup)
If you visit Phat Diem Cathedral, don't miss to try "Bun moc". "Moc" is made from pork, mushroom, green onion, lemon grass, chili). With the wellcooking skills of locals here, "Bun moc" has an amazing flavor, you won't have second chance to try this dish everywhere else beside eating here.
9. Ninh Binh mountain snail
This kind of snail lives on the limestone mountain, which is located in Tam Diep town, Yen Mo, Nho Quan. This snail just appears from April to August, which very tough and crunchy because it eats the natural plants on the limestone mountain. There are many dishes from this snail but the boiled snail is still the most favorite dish. The boiled snail usually be eaten with fish sauce.